Christmas Cards and Decorations
Custom designs - let's work together
If you can't see exactly what you need, then I'd love to work with you to create a bespoke picture.
Let's start with who your picture is for and what the occasion is.
And we can take it from there, making sure you have the design, colours and feel that will make your perfect picture.
Just drop me a message via 'Contact Us' and I'll get back to you.
Sarah x
Contact Us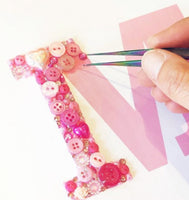 Hello, I'm Sarah.
I am the maker behind The Lavender House Gift Company. Every piece of art you buy from me I make by hand.
I love helping people like you find the perfect gift for their loved one.
Working with my fab customers, and personalising each picture so it is truly unique is what makes running The Lavender House Gift Company such a pleasure.
Button pictures are a joy to make, and I hope you find joy in your picture too.
If you ever have questions or ideas please get in touch. I always love to hear from you.
Sarah x
Let customers speak for us